Debt settlement programs can be a great way to get out of debt, but finding the right company that fits your needs is essential. There are dozens of licensed debt relief companies in Texas, so deciding which one is right for you can be challenging. Before you choose a Texas debt relief provider, make sure you read reviews from past customers. This will give you a better idea of what to expect and help you find the best service to get you out of debt. Here are some other tips and helpful information regarding finding the best debt settlement companies in Texas that will resolve your debt problems quickly and effectively.
How Debt Relief Works In Texas
Debt relief can work in various ways, but typically, debt settlement companies will negotiate with your creditors to get them to agree to reduce the amount of money you owe. This can be done through a lump sum payment or a payment plan. Find a licensed company with a good reputation, as they will have experience negotiating with creditors on your behalf. Having an experienced negotiator can also make it easy on you, as there's no longer the added stress of dealing with an aggressive collection agent.
What To Look For From A Debt Settlement Company In Texas
There are a few things you should look for when choosing a debt settlement company. First, make sure the company is licensed in Texas. Second, check if the company is accredited by the Better Business Bureau (BBB) and other companies that track business performance and complaints. Don't forget about the Federal Trade Commission and the CFPB, as both these government entities record complaints from dissatisfied customers.
As mentioned above, you also want to focus on company reviews. We live in the digital age, and many Texas residents are leaving reviews online that detail exactly what they experienced with a local debt relief company. You also want to visit the company to see if they're professional and have a clean office with helpful employees. This can be difficult with those companies that offer online services in Texas, but you should still be able to verify they have a physical address in the state and are accredited.
Finding a neighborhood debt settlement company is easier if you live in larger metro areas like Dallas or Houston. Numerous companies offer services all over the country that just so happen to have their headquarters in Texas. Two of the largest debt relief providers are based in Dallas County, and a handful of smaller companies have offices in Travis County.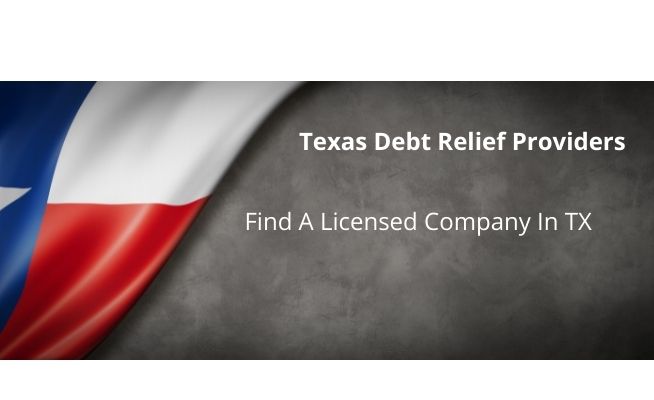 A Word Of Warning About Debt Settlement Companies In Texas
However, not every debt settlement company in Texas is honest or reputable. Many fly-by-night companies have been sanctioned or taken to court by the Finance Commission Of Texas. Some local companies will tell you that they can get your creditors to agree to waive your debt, but this isn't true. Your credit scores will be damaged if you miss payments and go into collections, so you must find a reliable service that responsibly handles your financial issues.
Remember, debt settlement programs should only be used as an alternative to bankruptcy or if you can't back your credit card debts. Another option for debt relief services in Texas is to find a licensed credit counseling service. Check out our directory of the largest debt settlement companies only after you have exhausted your alternate methods. You will fall behind on your debts and likely get harassed by credit card companies and third-party debt collectors.
What Else To Know About Texas Debt Relief Companies
When researching a debt relief company in Texas, you'll want to ensure the company is transparent about its program's work. Some companies in Austin require an initial fee for their services, but many providers do not. Other companies only offer a document preparation service, and many debt settlement attorneys provide more comprehensive services. You should also be very clear about how much the program will cost you in the long run and what kind of fees the company charges.
Debt relief services can be a great way to get out of debt but research all your options before deciding on a provider. Review reviews and compare services to find the best one for your needs. Licensed debt relief companies in Texas are plentiful, so you're sure to find one that's right for you and puts your interests at the forefront regarding how it handles your debts and works with your creditors. Contact Debt Settlement List to learn about your debt help options in Texas!